Looking to brush up on your Polish? Or even just get started with your first words?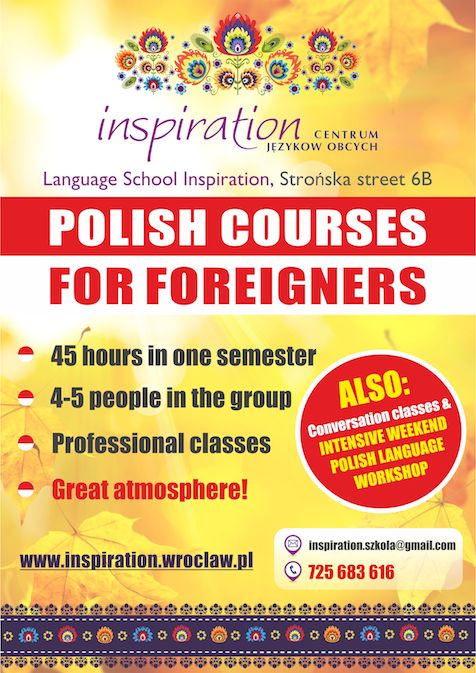 Inspiration school's semester course includes 45 hours of education separated into 30 one and half hour lessons across a 4 months period.
The course starts from September the 15th (max. September the 30th).
The courses will be run both during working hours and in the evening (e.g from 5pm onwards), with the exact times tailored to meet the needs of the group.
Each lesson will be taught by the schools's director, Justyna Bednarek, and will contain grammar, conversation, vocabulary, listening and reading tasks prepared with the communicative method in mind. This includes classes utilizing custom made activities and authentic Polish material, all of which are designed to help you get to grips with everyday Polish.
Inspiration school is located in an attractive area of the Gaj neighbourhood, surrounded by modern apartments. It easily accessible via public transport, with the Gaj loop linked to the city centre via trams 31 and 32 as well as buses K,136,146 and 145.
Thanks to our small group sizes (5 people maximum), fun and engaging lessons, homely atmosphere and attractive prices, we've also been recommended by the city's number 1 English website, Wroclaw Uncut.
Want to get started with your Polish?


Contact us on 725 683 616 or inspiration.szkola@gmail.com to book your place.
Do zobaczenia!